Aleschija Seibt est en résidence à art3 de juillet à septembre 2020.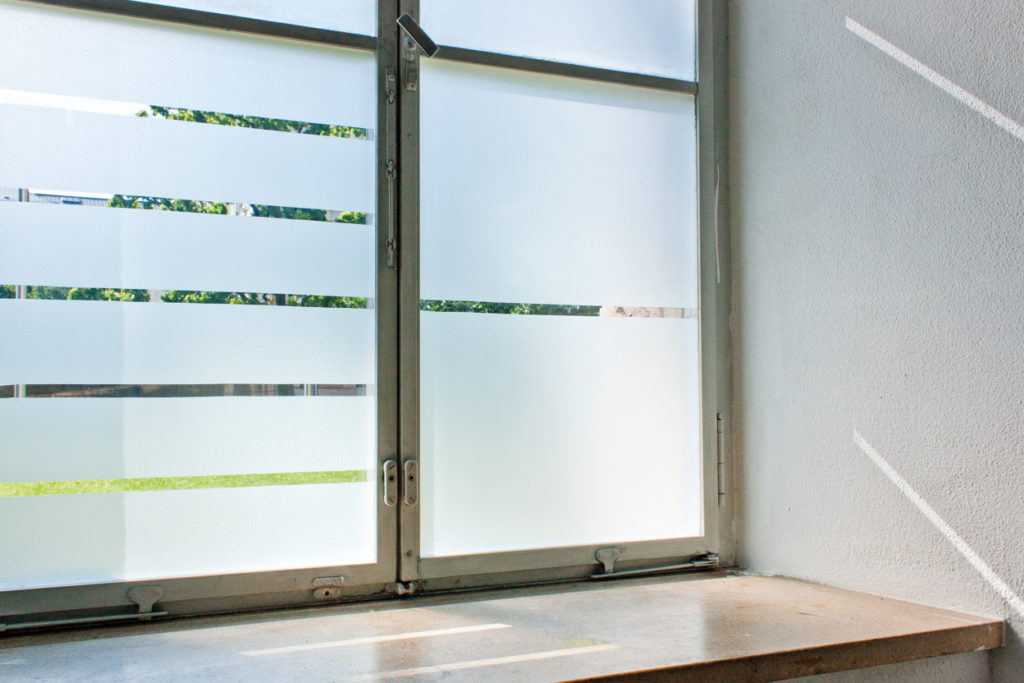 Choreography of 37 gaps, 2020, inked buttermilk on window glass, installation during the exhibition Aber alles blieb unverändert, Staatliche Akademie der bildenden Künste München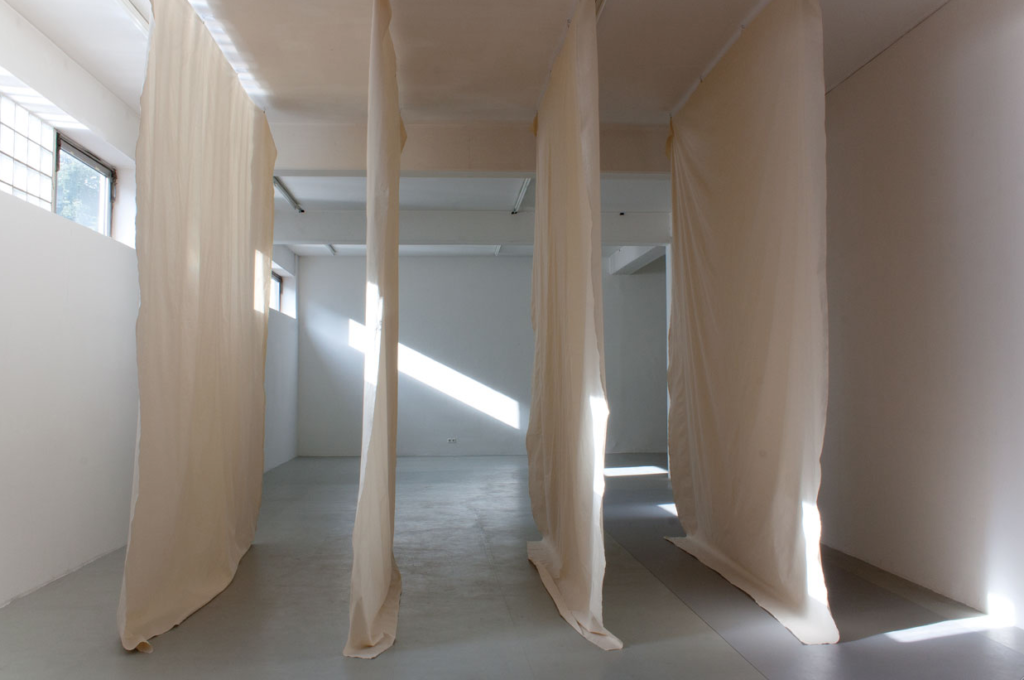 Eight walls (soft architecture), 2017, linen fabric, installation during the exhibition Overlap, Kunsthaus L6, Freiburg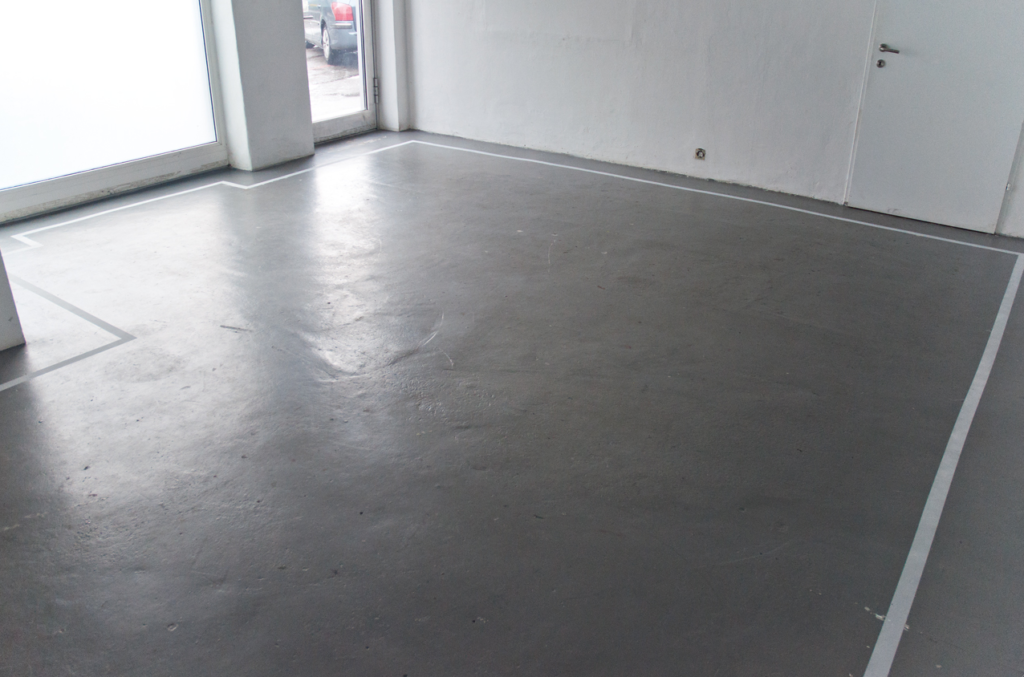 Stage, 2017, buttermilk inked with tempera, installation during the exhibition fern nah gleich anders, periscope, Salzburg
White forms defining the view through windows. Panels of fabric changing the perception of a room. Ropes that wander through an exhibition space. Aleschija Seibt's work follows a rhythm and determines a rhythm. Processes and daily motion sequences are overarching themes. Further, the reception of an art work and its temporality is regarded. Architectural situations as well as shapes and sizes from urban spaces build the basis of her installations. Commonly, the artist considers the work as some sort of experiment consisting of modules that are used to question the processes in a given space.
Des formes blanches définissant la vue à travers les fenêtres. Des panneaux de tissus qui modifient la perception d'une pièce. Des cordes qui parcourent un espace d'exposition. Le travail d'Aleschija Seibt suit un rythme et détermine un rythme. Les processus et les enchaînements de mouvements quotidiens sont des thèmes prédominants. En outre, la réception d'une œuvre d'art et sa temporalité sont considérées. Des contextes architecturaux ainsi que des formes et des dimensions issues d'espaces urbains constituent la base de ses installations. Généralement, l'artiste considère l'œuvre comme une sorte d'expérience composée de modules qui servent à interroger les processus dans un espace donné.
*1983 Giengen a. d. Brenz
2010 – 2011
« Meisterschülerin » with Prof. Toon Verhoef, Staatliche Akademie der Bildenden Künste Karlsruhe
2005 – 2011
Studies of Fine Arts, Staatliche Akademie der Bildenden Künste Karlsruhe
Awards and residencies (selection)
2020
art3, Valence, Scholarship of the Ministry of Science, Research and the Arts, Baden-Württemberg in collaboration with Région Auvergne-Rhône-Alpes and Institut français Stuttgart
2019
in:vzbl, studio residence, Solidart, Timisoara
2016
Athens, studio residence, ZLR Betriebsimperium
2015
a room that…, studio residence, Baumwollspinnerei, Leipzig
2014
Citè Internationale des Arts, Paris, Scholarship of the Ministry of Science, Research and the Arts, Baden-Württemberg
Solo Shows (selection)
2019
in search of VIZIBIL, with Oana Vainer, Solidart, Timisoara
2017
Overlap, with Tobias Buckel, Kunsthaus L6, Freiburg
2016
it`s not antique, Trianon cinema, Athens
IN THE MEANTIME, Großer Frühjahrsrundgang, Baumwollspinnerei Leipzig
2015
45 nights, 45 days, Bikini, Lyon
Double Boucle, with Oana Vainer, Institut francais, Stuttgart
A crater is blasted into the surface of the moon. No specific shape., with Christian Falkner, SSBA – Salon, Amsterdam
2014
blank, Ride on Projects, Karlsruhe
HinkePinke, Le corridor, Cité Internationale des Arts, Paris
2013
BALLROOM, with Zora Kreuzer, artist-run space Im Hinterzimmer, Karlsruhe
Case Study, vitrine for exhibitions, Hannover
Selected Group Shows
2020
Aber alles blieb unverändert, Staatliche Akademie der Bildenden Künste München
2018
Thresholds, Gonzo Unit, Thessaloniki
HELLO mold, Projektraum mold, Karlsruhe
2017
30 Jahre Retour de Paris, Art Karlsruhe
fern nah gleich anders, periscope, Salzburg
2016
Tourneé, Erratum, Berlin  –  Saga, Stuttgart  –  Im Hinterzimmer, Karlsruhe  –  L'oeil-de-boeuf, Lyon  –  Astérides Ateliers D'artistes, Marseille
FLIRT, Projektraum Ameisenberg,  Stuttgart
a room that… what?, Winterrundgang, Baumwollspinnerei Leipzig
2015
Heimspiel, Neuer Kunstverein Aschaffenburg
Höhenluft 10, Kunstverein Wilhelmshöhe, Ettlingen
Connexion en cours, Goethe – Institut, Paris